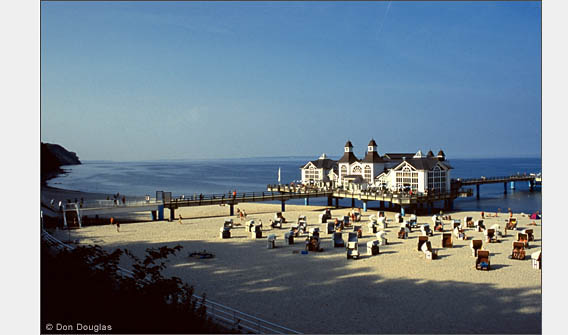 Ostseebad Sellin
As with Binz, Sellin is one of the resort towns that give Ruegen its reputation for classic elegance.
Comfortable yet moderately priced sea-facing hotel rooms will take you back to an earlier era of refined traveling – like something that came right out of an Agatha Christie mystery novel.
As the name implies, the town is the site of a health spa located on the Baltic Sea. It's been such for quite a long time. Here you can comb the beach for Bernstein (amber), or spend the day in a Strandkorb (literally, "beach basket" – one of the two-person, wicker beach chairs that can turn a cold day almost tropical if you are able to face it toward the sun and at the same time away from the wind).
Take time to browse the boutiques and curio shops, and top off the day with massage, sauna and other health-oriented amenities. Of interest to those with children in tow, Sellin is the site of an aquatic park with a water slide as well as a stop for the Kleinbahn which can take you to the Jagdschloss Granitz and the oldest Ostseebad on the island, Putbus.