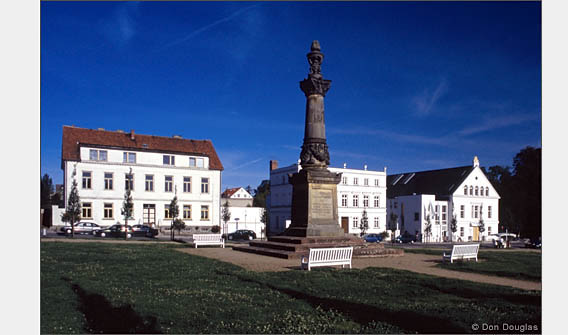 Putbus — Oldest Resort Town on Rügen
First documented in 1253, the one-time Slavic settlement is now regarded as Ruegen's cultural capital.
One of the best things about Putbus is before you get there. It's on the Deutsche Alleenstrasse. Driving out of the green tunnel into "the White City" of Putbus, we were struck by the classic architectural columns and bright white buildings around the "Circus" – a circular drive around a central park.
The town is an example of the renovation that has taken place in the former DDR over the past couple of decades, during which most of Putbus has been restored to its pre-communist grandeur. There's a requirement that facades maintain their original structure and character and in one case we saw that only the front wall was left standing, propped up while an entirely new building was being constructed behind it.
A main attraction ofthe town is the Schlossgarten, landscaped in the style of an English garden. The castle no longer exists, but its church, or Schlosskirche, has survived. The town is also the site of an animal park where we saw some rare fallow deer along with a variety of other wildlife.
Putbus is at the western end of the narrow gauge (Kleinbahn) steam rail line which runs from there to the island's easternmost village of Göhren, which is where we got on board. The antique train is fun for anyone, and a definite must if you have children in tow.