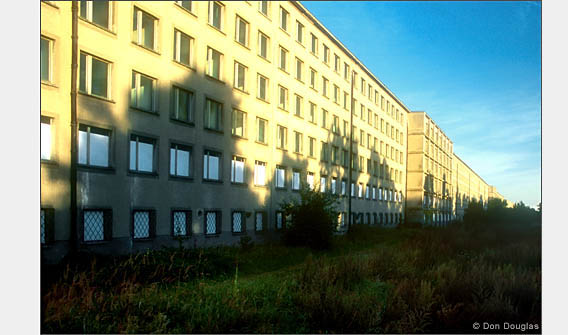 Prora — Strengththrough Joy
The site was to have been a Nazi beach resort for the masses.
Four-and-a-half kilometers of apartment blocks that are plain by anyone's standards (and just plain ugly by many people's) sit on a beautiful strip of land totaling 178 acres (71 hectares) alongside some of the island's finest beaches.
Due to the outbreak of WWII, Hitler's idea of "Strength through Joy" for up to 20,000 guests at a time was never realized. The buildings were later used as housing for bombed-out war refugees, and then as a barracks in the communist era.
In recent years, the German government spent time looking for a buyer for it. That fact made some of the hoteliers nervous about huge block of budget rooms coming onto the already competitive market. It finally went on the auction block in September of 2004 with a starting price of EUR 125,000 and ended up with a hammer price of EUR 625,000. Recently, Prora has opened as a massive youth hostel. More recently, this story was posted on The Local. Upmarket or down, Prora would be an excellent choice for a vacation. A short walk through the dunes brings you to Prora's beach, with Ostseebad Binz visible in the distance.