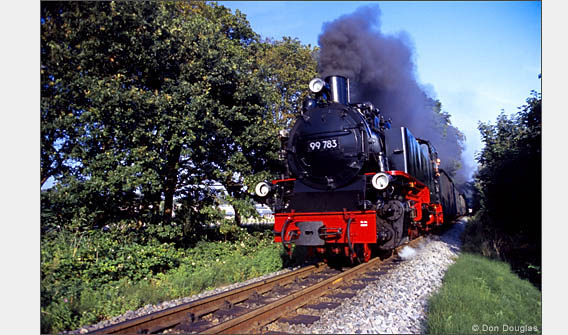 Rasender Roland
Rügen's
Kleinbahn

, or narrow-gauge railway, runs from Göhren to Putbus.
First constructed in 1895, the train moves at the stately speed of 30 kilometers per hour (18 mph). Was that considered a blistering pace back then? If so, it would account for the fact that the rail line came to be known affectionately as Rasender Roland. "Rasender" loosely translates "Racing," or perhaps "Raging." In any case, this speed demon is one of the more interesting things to do on the island, and a must if you are traveling with kids. It's also a practical way to get to Jagdschloss Granitz.
For most of the year, the trains run between Putbus and Göhren, and for three months in the peak summer season the line is extended a short distance beyond Putbus to the harbor at Lauterbach Mole. Along the way there are stops at Ostseebad Binz, Ostseebad Sellin and other resort towns. For more detailed information and schedules, check out the Rasender Roland website (in German).