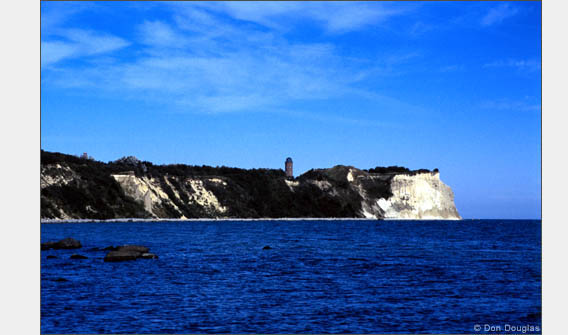 Kap Arkona
The northern end of the island is one of the best places to see evidences of Ruegen's multi-ethnic past.
There are visible reminders of Slavic settlement of the area. In summer, there is a Medieval reenactment festival at Kap Arkona, something like a European Renaissance Faire. Starting at Putgarten and extending to Vitt is a nature protectorate that is blocked for car traffic. It is two kilometers from the large parking lot in Putgarten to the Cape. Options include hiking the distance, taking the Arcona-train or a horse-drawn carriage. You can go either to the light tower or to Vitt, a historic picture-book village of thatch-roofed houses.
On the way to Vitt you pass by the Jaromarsburg, the last large fort of the Slavic population which existed on the island prior to the conquest in 1168 by the Danes. Only the 13 meter high castle rampart is left to be seen. Steep cliffs up to 46 meters in height surround the Cape with paths along the north and east coast of the peninsula.
The stone beach at the foot of the cliffs can be reached by stairways. However just as with the beaches at the Wissower Klinken, or any other beach close to the cliffs, caution is also advised here as falling rock has been a problem.