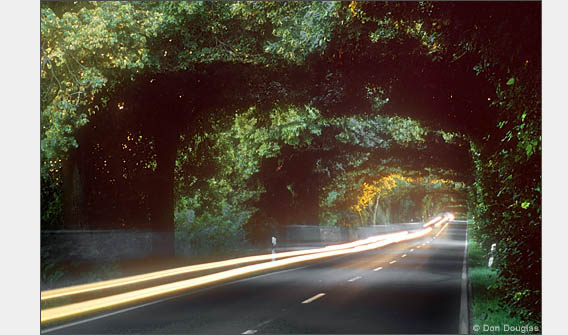 Deutsche Alleenstraße
In German, an "Allee" can be any broad avenue, but the term usually refers to a tree-lined highway.
The Deutsche Alleenstraße, most famous of Germany's Allees, runs from Ruegen at the north end all the way down through eastern Germany. It ends at the Bodensee, the huge lake which is also known as Lake Constance that is shared with Switzerland and Austria.
Approaching Putbus, the tree-shrouded Allee is like driving through a green tunnel. In the photo above, it is just on the verge of turning into the colors of autumn, helped along by the warm light of sunset.
The downside of the German Allees is that the penalty for going off the road – whether due to avoiding a deer or any other reason – is often death or serious injury, airbags or no. Hit a good sized tree and the tree wins. Crosses by the roadside are a fairly common sight. We enjoyed the sight and drove carefully at the 80-kilometer-per-hour speed limit as locals passed us, casting sideways glances that seemed to say, "Wimp."