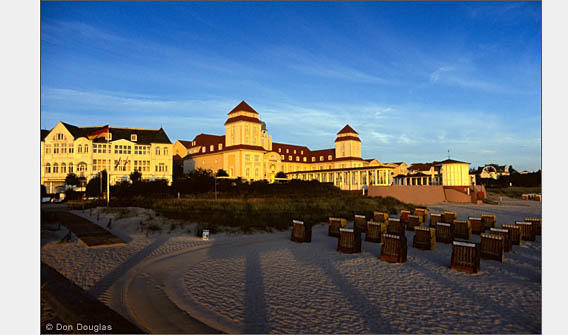 Ostseebad Binz
Like Sellin, Ruegen's largest beach resort town of Binz boasts several restored antique spa hotels.
In addition to that, it has another feature which some travelers might find even more appealing: frontage on a very long sandy beach. For those whose idea of an ideal vacation includes hours of barefoot hikes in sand and surf, Binz is an excellent destination. As with many places on the Baltic coast, it's possible to find bits of Bernstein (amber) along the shoreline.
In common other Ruegen towns, Binz has some very fine seafood restaurants at prices which are quite moderate in comparison with other regions of western Europe.
First recorded as the fishing village of Byntze in 1318, the town is on the southern rim of the bay known as Prora Wiek. To its north is the town of Prora, site of what was to have been a Nazi beach resort for the masses.