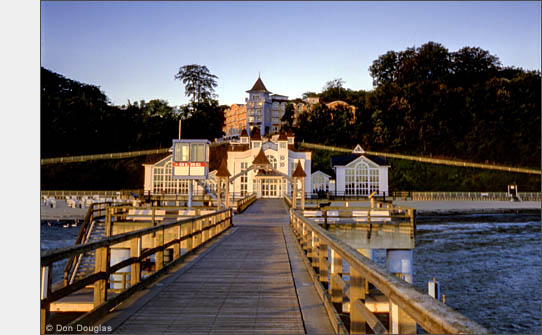 The Baltic Island of Rügen
Just off Germany's Baltic coast lies this picturesque, Hong Kong-sized island.
It was traded around over the centuries, variously conquered by Slavs, Scandinavians and Prussians (who ended up owning it). Boasting more days of sunshine than anywhere else in Germany (admittedly not very stiff competition), it also has a variety of historical, geological and architectural features which make it a popular destination for Germans and other northern Europeans.
To the English-speaking world, however, Ruegen is still relatively little known. With spacious and elegant sea-facing rooms in classic hotels costing half what they would in similar properties on France's Atlantic coast, the island offers a five-star holiday on a three-star budget.
Much of its charm was acquired by default. In the communist period, during which West Germany grew into a modern icon of prosperity and advanced engineering, the East kept much of its tractor-drawn, thatch-roofed, old European character thanks to an economic system that gave little incentive to make progress.
The reunification of Germany, which was begun in 1990, has changed the picture dramatically. In addition to government financing, private western money has been flowing into real estate investments in the former DDR. One area where this is most evident and most welcome is in the once-elegant spas on Germany's beautiful Baltic coast. They are elegant once again.